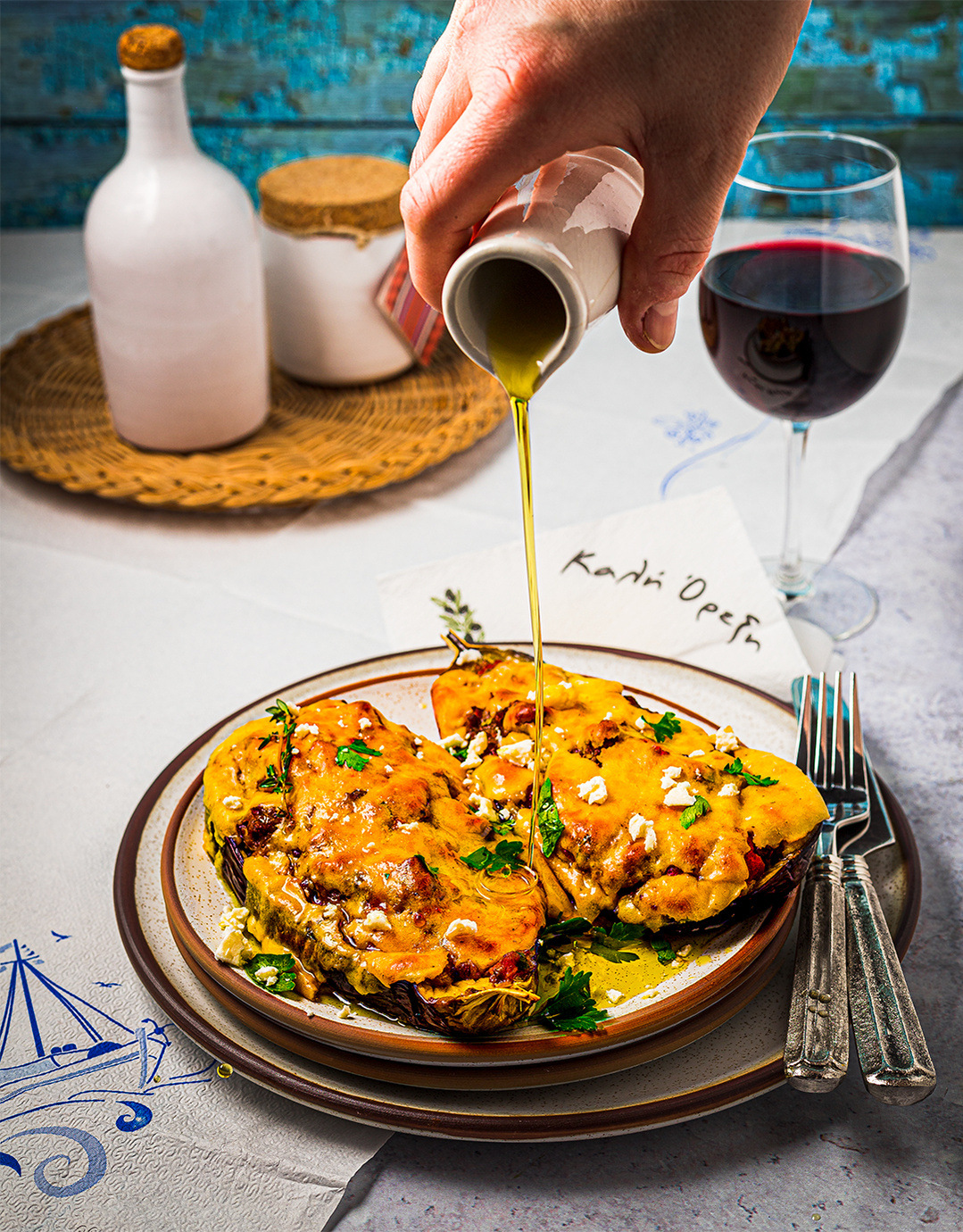 Greek food is definitely one of my favorite to cook and enjoy and out of that, Cretan food is the most beloved and well-known to me, since we've spent a lot of time on the beautiful island of Crete over the years. That's why I was really psyched that this week's #Fridaycookbookproject's winning cookbook was one of Cretan cuisine. Originally, I thought I would cook a lamb recipe because I had some (what I thought was) nice piece of boneless lamb leg from New Zealand. But it so happened that most of the lamb recipes in the cookbook requested the front part of the animal and also, that meat sucked. I cooked another recipe with it and it was a no no. You wouldn't suspect lamb to be tough, and yet…
Anyway, Cretan cuisine, being known as probably the healthiest in the world, also works with a lot of ingredients that are hard to source here in Denver (and to my knowledge, back in Prague, too), mainly some specialty cheeses and also some less common meats like rabbit, goat or pigeon. So after some thinking I decided to go with a recipe for one of our favorite dishes that we like to enjoy for dinner when we spend our yearly vacation in Western Crete. The ingredients are easy to find and pretty common to everyone who may want to try it (looking at you, Philip and Krisztina! :))
Papoutsakia [παπουτσάκια], a dish named after "little shoes", could be easily described as stuffed eggplants. The use of traditional Greek spices like thyme, cinnamon or cloves makes it a fragrant and delicious meal. It's pretty nutritious and healthy, too, with all the lean protein, vegetables and extra virgin olive oil. Then of course, if you decide to accompany it with some delicious crusty white bread or pita, no one will blame you. I, for one, may even join you. Some nice red wine to cook with and to drink while cooking (sorry, I meant eating, of course… not! But also.), possibly from our favorite Cretan winery, Manousakis, will go a long way.
Here is a confession: this recipe doesn't actually come from the book! Oh no, breaking my own rules, what a world. Let me explain, though. I found that the version that's featured in the otherwise very nice cookbook is vegetarian and however delicious I am sure it would be, too, I decided to try to approximate the version that we've been cherishing for years, cooked and served in our favorite spot on the island, a beautiful taverna on the cliffs above the sea, owned by the family of our good friend Stelios. It's the best place to enjoy some sunset viewing from and it's been very special for us. For that reason I decided to use this amazing extra virgin olive oil, also produced by Stelios' family that he kindly gifted us on our latest visit.
I think I did a pretty good job reconstructing the recipe, perhaps it could use a bit thicker layer of béchamel on top and you're welcome to make more and add that, but in my version the flavors of roasted aubergines and beef cooked in tomatoes with spices are the most pronounced. Let's get to it and make 4 portions at once!
First we need to prepare our "vessels". Turn the oven on to 390F. Wash 4 nice eggplants and dry them well. Cut them in half lengthwise and remove the leaves and stems (or keep the stems for more decorative serving). Place them on a parchment paper fitted baking tray and using a sharp knife, cut the flesh in a crisscross pattern without cutting into the skin. Pour 2 tbsp of good olive oil all over them evenly and sprinkle them with some salt, pepper and fresh thyme. Then turn them skin side up and roast for about 40 to 45 minutes, until they soften up. Keep the oven on, you'll still need it.
In the meantime, prepare the meat filling. Heat a non stick skillet to high temperature and pour in 3 tbsp of good olive oil. Roughly chop 1 onion and 1 clove of garlic and when the oil is hot enough, throw them in. Sauté them on high heat for about 2 minutes, then add 1 tsp of sugar, 1/4 tsp cinnamon, 1/4 tsp ground cloves, 2 tbsp of dried thyme, some salt and pepper. Sauté for 8 more minutes or so, until nicely caramelized. Pour in 6 fl oz nice red wine and once it's evaporated, add 1 lb of lean ground beef and cook for about 3 minutes while separating it with a wooden spoon. Then add 12 oz can of peeled tomatoes and cook the whole mixture for about 20 minutes or until it becomes less liquidy.
When it's time to take the aubergines out of the oven, flip them so that the flesh is on top. Then using a fork, gently mash up the cooked flesh and scoop most of it out into a bowl so that only the skin and a bit of flesh is left. Don't go too thin so that the "boats" don't lose their shape. Then stir the scooped out flesh into the meat filling and cook it all together a bit more, until it's not as wet, but not too dry. Taste the filling and add some salt and pepper to taste if needed, then stir in 3 oz grated gruyere or parmesan, 1 cup coarsely chopped parsley, leaves from about 10 twigs of fresh thyme and perhaps even a bit of fresh mint if you have any.
While you are finishing the meat filling, prepare the béchamel. If you stick to my recipe, you will end up with a very thin layer to just decorate the tops of the aubergines. If you wish, you can double or even triple the amount but using a bit less milk so that your béchamel is thicker and creates a heavier layer on top. In a pot on medium heat, melt 2 oz unsalted butter and stir in 1.5 oz flour. Create a nice light roux, then gradually whisk in 9.5-10 fl oz of warm milk. Keep whisking and when everything is smooth and starts bubbling, take it off the heat. Whisk in 3 oz ground gruyere or parmesan, 3 egg yolks, a bit of salt and pepper and a bit less than 1/4 tsp of ground nutmeg. Or more, if you like.
To assemble your papoutsakia, divide all the meat filling among the 8 empty eggplant halves and fill them up using a spoon. The filling can be piled up above the edges, even better! Then pour about 2 tbsp (or more, that is if you prepared more of it!) of the béchamel over each half. Bake it for about 20-25 minutes, until dark blisters appear on your béchamel.
Serve right away or reheat the next day for even more flavor, with some chopped parsley and a drizzle of good olive oil. I hope you enjoy this week's recipe as much as I did! Unlike some previous ones, this one is fairly easy and doesn't take too long. A beautiful side effect is the aroma that fills your house when this meal is being cooked, as with every good homemade meal made with quality ingredients.
Καλή όρεξη and have a good meal! And let me know how you liked it, I'll be waiting over at IG.
*Recipe is inspired by Cretan Cuisine cookbook but recreated to meet the author's carnivore demands.

Text and photographs © Andrea Gralow 2020. All rights reserved.